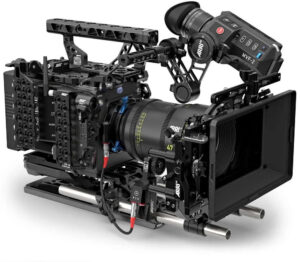 ARRI ALEXA 35
The ARRI ALEXA 35 is a 4K Super 35 camera that elevates digital cinematography to unprecedented heights. ARRI's first new sensor in 12 years builds on the evolution of the ALEXA family over that period, delivering 2.5 stops more dynamic range, better low light performance, and richer colors. The new REVEAL Color Science takes full advantage of the sensor's image quality, while ARRI Textures enhance in-camera creativity. Easy operation, robust build quality, new accessories, and a complete new mechanical support system round out the ALEXA 35 platform.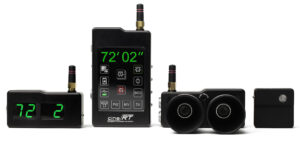 Cine RT Focusbug
The CINE RT SYSTEM re-imagines camera-mounted rangefinder systems and uses cutting-edge computing solutions to provide camera assistants with innovative user modes and functions. Precision clocking and high sampling rates ensure continuous accurate measurements, while proprietary algorithms offer an exceptional balance of sensitivity and stability.
Relentlessly tested by working focus pullers, the CINE RT SYSTEM has been honed to deliver optimal utility and functionality in the field. The CINE RT SYSTEM is a complete ultrasonic measuring ecosystem, designed and hand-built in Vancouver, Canada by industry professionals who understand the demands of camera assisting in contemporary motion picture and television production.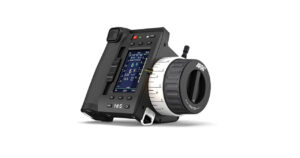 ARRI Hi-5
The new ARRI Hi-5 is the most sophisticated hand unit on the market, providing reliable wireless camera and multi-axis lens control. Weatherproof and solidly built, it features an exceptional radio link via swappable module, a high contrast touch screen LCD, smart focus rings, full Focusbug integration, and endless customization options.
Compatible with all ARRI cameras, as well as select RED, Sony, and Canon camera systems.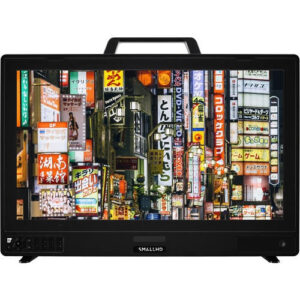 SmallHD Cine 24" High-Bright 4K Monitor
Cine 24 brings 4K monitoring everywhere. 1350nits of sustained brightness enables clear viewing in bright daylight environments, which eliminates the need for a sun hood or viewing tent. Small4K™ Video Processing Architecture offers a total 4K Input / Output workflow with 4x 12G-SDI hardware and PageOS 4 Quad-View* for multiple 4K-input viewing. Lightweight for faster setup & teardown, this monitor is the all-around solution as a director's monitor or for production & broadcast video villages. Cine 24 is SmallHD's ultimate production workhorse.
Product Highlights
23.8in/60cm IPS LCD
1350nits
3840×2160 Resolution
100% DCI-P3 Color
Weight: 16.5lbs / 7.5kg (with handle & feet)
Power: Hot-swappable dual inputs: 1x 3-pin XLR, 1x Dual-GM Battery Plate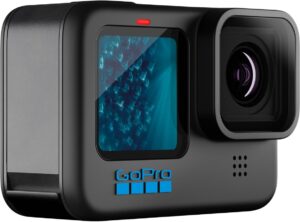 GoPro Hero11 Black
With improved digital features, a 27MP image sensor, and Wi-Fi capabilities, the GoPro HERO11 Black is the ultimate action camera to capture dynamic POV video up to 5.3K at 60FPS, 4K at 120FPS, and 2.7K at 240FPS. 10-bit color and HyperSmooth 5.0 digital stabilization ensure your footage remains high-quality and features horizon lock technology to ensure your videos are lined up properly regardless of how dynamic the action is. The camera can withstand depths up to 33′ on its own (no additional housing required). A water-repelling lens cover eliminates lens flare to make photos and video crystal clear.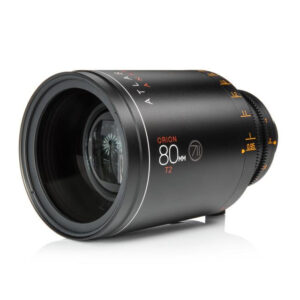 Atlas Orion Silver Edition (SE) Anamorphics
This limited edition 6-lens set made from Atlas' private optical reserve, will be limited to 100 sets ever made. The Silver Edition lenses maintain the modern, mechanically reliable performance that sets the Orion Series apart from vintage anamorphic lenses, all while celebrating aspects of the silver screen cinema era.
Precision-adjusted air space tunings paired with bold Silver Edition coatings result in expressive, reactive, yet chromatically refined anamorphic flares unlike any lens before. Orion SE's dynamically reactive neutral flare characteristic takes on the color of your light source and provides more flexibility in expressing your desired look.
Air spacings between elements have been optimized to provide a different focus fall-off (through-focus) characteristic from standard Orion Series lenses. Fast T2 aperture, crisp flat-field performance when stopped down to a T2.8 or more, and unified iris/focus position across all Orion Series, all in a modern and mechanically dependable design.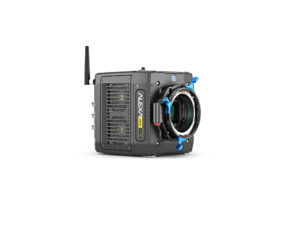 ARRI ALEXA Mini LF
Shooting in large format is like painting on a bigger canvas. Different stories call for different tools, and cinematographers are increasingly turning to larger formats for certain productions. It might be to enhance the cinematic feel, or capture the detail of landscapes, or enhance background separation for close-ups that pop out of the screen. Whatever the creative reason, working with a sensor that is twice the size of Super 35 brings new storytelling opportunities.
Featuring a sensor slightly larger than full frame, the ALEXA Mini LF records native 4.5K with ARRI's best overall image quality. This allows filmmakers to explore their own take on the large-format look, with improvements on the ALEXA sensor's famously natural colorimetry, pleasing skin tones, low noise, and suitability for High Dynamic Range (HDR) and Wide Color Gamut (WCG) workflows.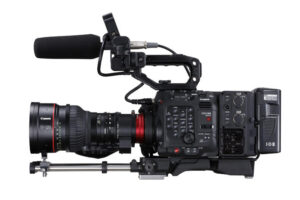 EOS C500 MKII
The Cinema EOS C500 Mark II features Canon's high-resolution 5.9K (38.1 x 20.1mm) Full Frame CMOS sensor, which offers exceptional low noise and a broad range of tonality with over 15 stops of dynamic range. The sensor's expansive native cinema gamut goes beyond that of current standards, including ITU-R BT.2020 and DCI-P3, helping the EOS C500 Mark II achieve more natural skin tones and allowing for greater freedom in color grading in both SDR and HDR productions. The Full Frame sensor is capable of capturing footage in a wide variety of aspect formats, including DCI-4K, UHD and Anamorphic Widescreen. The Cinema EOS C500 sensor supports both anamorphic and spherical lenses. In addition to full-frame, the sensor can also be paired with conventional Super 35mm and Super 16mm lenses using appropriate sensor crop modes.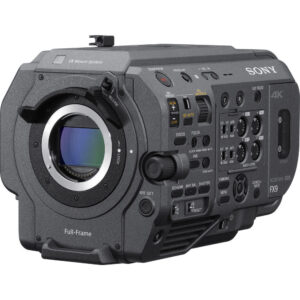 Sony FX9
The camera's full-frame 6K sensor provides superb recording in DCI 4K* Ultra HD and HD resolutions. Powerful image processing with debayering and oversampling ensures image quality beyond the limits of conventional Super 35 mm sensors. The back-illuminated CMOS image sensor also uses Sony's Exmor R technology for improved sensitivity and noise reduction. Compared to a 4K Super 35 mm sensor, the FX9's 6K sensor has over twice the surface area while providing a wider angle of view and shallower depth of field.
The FX9 offers an exceptional 15+ stops of dynamic range—beyond the normal range of human perception—allowing for unprecedented creative freedom in color grading and post. Camera operators can concentrate on framing the scene they want while relying upon the FX9 to capture every nuance and detail using either 4K 4:2:2 10-bit internal recording or 16-bit RAW external recording.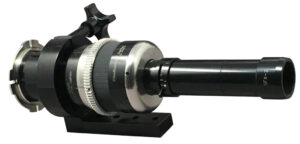 InfiniProbe TS-160 ROBUSTO Probe Lens System
With input coming from some of the most honored cinematographers in the world, we set about bringing the TS-160 up to their more demanding OPTICAL and MECHANICAL standards. The result is what we have called ROBUSTO. ROBUSTO combines all-metal construction and precision focus adjustment for unsurpassed reliability. In addition, all ROBUSTO models feature built-in gearing for motor attachment. Now, ROBUSTO has been adapted to the InfiniProbe TS-160—an almost universal imager capable of direct focus from infinity to 18mm and 0-16x on full-frame sensors that is winning widespread acceptance among some of the world's premiere cinematographers. Three different objective lenses are available ranging from an equivalent of 100mm to 32mm. Available in EF, PL, or E mounts.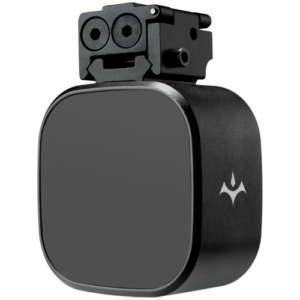 Teradek TOF.1 Precision Infrared Laser Range Finder
This small and lightweight infrared rangefinder provides constant distance measurements between objects and the camera's focal plane. Connect your TOF.1 to an MDR.X Lens Control Receiver to provide distance readouts on CTRL.1 or CTRL.3 wireless handheld controllers. TOF.1 features an IR sensor array that can detect objects within a line-of-sight distance up to 80ft. An included detachable Laser Sight can be centered to the sensor's field of view to achieve pin-point accuracy.
(CTRL.1 or CTRL.3 REQUIRED)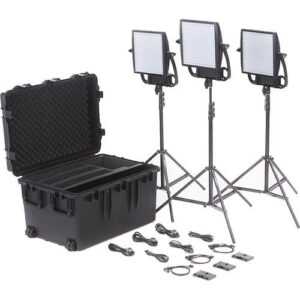 Litepanels Astra 6X Traveler Bi-Color Trio 3-Light Kit
The Astra 6X Bi-Color panel builds on the popularity of the Astra 1×1 Family, the next generation of LED panels from the lighting professionals who revolutionized the lighting industry. The innovative Astra family of LED panels were years in the making, with every design element of these next-generation panels being meticulously crafted. Following the Litepanels tradition of a one square foot form factor, the Astra series is designed with select premium quality, high CRI, surface mount LEDs and paired with custom optics that provides the Astra 6X series with high color quality that's perfect for lighting talent. The Astra 6X has an impressive output that rates among the highest of LED panels. It is now 50% brighter than the first generation Astra and 6 times brighter than the original 1×1.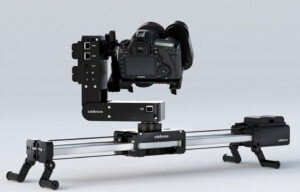 Edelkrone Headplus/Slide Module V2 System
Now time-lapse and motion control shooting is easier and more efficient than ever. From the easy to use Android or iOS app, set all your parameters in no time, to create the stunning effects you want. Smooth silent operation also makes it extremely useful for interviews or other audio-critical situations.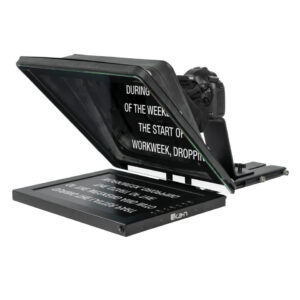 Ikan PT4700-SDI-17 Teleprompter
Ikan's professional teleprompter series is designed for a quick and easy setup to work efficiently in outside broadcast applications or professional studios. The lightweight aluminum teleprompter has multiple 3/8-16″ and 1/4-20″ for mounting to a pedestal. The high quality 70/30 made in America teleprompter glass provides the perfect balance of reflection and pass-through without distorting the image. With 1000 nits the prompting image will always be crisp and visible whether you're under the sun or studio lighting. This professional teleprompter includes three different camera mount bases ranging from DSLR to full-sized Digital Cinema.
Features:
1000 nit High Bright 17″ Monitor
High-Quality American Made 70/30 Beam Splitter Glass
Screen Readable from up to 20′
Multiple Camera Mounting Options
Easy Balancing with Adjustable Base
SDI Input Makes "Interrotron" Easier
Monitor Supports Image Flip
SDI, HDMI, and VGA Inputs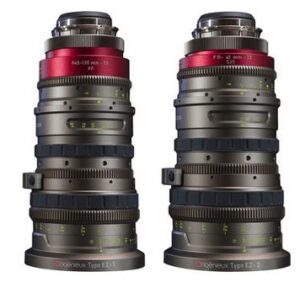 Angenieux EZ-1 & 2
The Angénieux Type EZ-1 and EZ-2 for S35mm cameras is a professional cinema zoom lens. Its focal range and aperture are set to 30-90mm T2 on the EZ-1 and 15-40mm T2 on the EZ-2. By exchanging the rear lens group, the EZ-1 becomes a 45-135mm T3 for FF/VistaVision format, and the EZ-2 becomes a 22-60mm T3 for FF/VistaVision. Available in PL, EF and E lens mounts and weighing only 4.7 lb. the lens features a precise and ergonomic focus ring with scale rotation of 300 degrees and luminescent FTZ markings for easy reading in the dark.