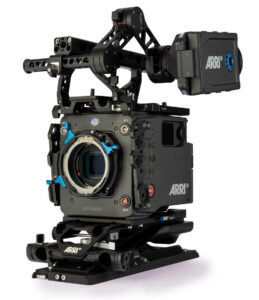 ARRI ALEXA 35
The ARRI ALEXA 35 is a 4K Super 35 camera that elevates digital cinematography to unprecedented heights. ARRI's first new sensor in 12 years builds on the evolution of the ALEXA family over that period, delivering 2.5 stops more dynamic range, better low light performance, and richer colors. The new REVEAL Color Science takes full advantage of the sensor's image quality, while ARRI Textures enhance in-camera creativity. Easy operation, robust build quality, new accessories, and a complete new mechanical support system round out the ALEXA 35 platform.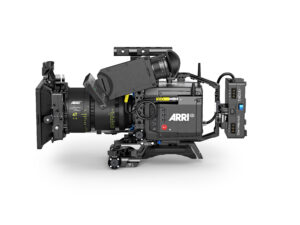 ARRI ALEXA Mini LF
Combining the compact size and low weight of the popular ALEXA Mini with the large-format ALEXA LF sensor, ALEXA Mini LF is a go-anywhere camera that has a small footprint, but delivers big images.
Recording the same formats as ALEXA LF, but to the new, state-of-the-art and cost-effective Codex Compact Drive, ALEXA Mini LF is a robust and reliable camera that features internal MXF/ARRIRAW and MXF/Apple ProRes recording, three internal motorized FSND filters, 12 V power input, extra 12 V and 24 V accessory power outputs, compatibility with ALEXA Mini accessories, additional user and lock buttons, improved WiFi, built-in microphones, easier access to connectors and media, and a new MVF-2 high-contrast HD viewfinder.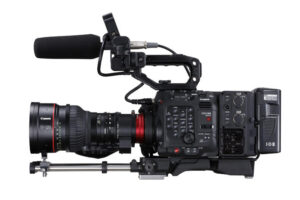 EOS C500 MKII
The Cinema EOS C500 Mark II features Canon's high-resolution 5.9K (38.1 x 20.1mm) Full Frame CMOS sensor, which offers exceptional low noise and a broad range of tonality with over 15 stops of dynamic range. The sensor's expansive native cinema gamut goes beyond that of current standards, including ITU-R BT.2020 and DCI-P3, helping the EOS C500 Mark II achieve more natural skin tones and allowing for greater freedom in color grading in both SDR and HDR productions. The Full Frame sensor is capable of capturing footage in a wide variety of aspect formats, including DCI-4K, UHD and Anamorphic Widescreen. The Cinema EOS C500 sensor supports both anamorphic and spherical lenses. In addition to full-frame, the sensor can also be paired with conventional Super 35mm and Super 16mm lenses using appropriate sensor crop modes.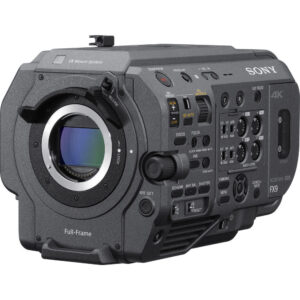 Sony FX9
The camera's full-frame 6K sensor provides superb recording in DCI 4K* Ultra HD and HD resolutions. Powerful image processing with debayering and oversampling ensures image quality beyond the limits of conventional Super 35 mm sensors. The back-illuminated CMOS image sensor also uses Sony's Exmor R technology for improved sensitivity and noise reduction. Compared to a 4K Super 35 mm sensor, the FX9's 6K sensor has over twice the surface area while providing a wider angle of view and shallower depth of field.
The FX9 offers an exceptional 15+ stops of dynamic range—beyond the normal range of human perception—allowing for unprecedented creative freedom in color grading and post. Camera operators can concentrate on framing the scene they want while relying upon the FX9 to capture every nuance and detail using either 4K 4:2:2 10-bit internal recording or 16-bit RAW external recording.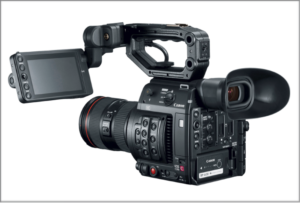 Canon EOS C200
The EOS C200 Digital Cinema Camera is a "ready-to-go" production camera that comes with a built-in electronic viewfinder and an array of accessories including a 4-inch touch screen LCD monitor, a versatile handle and ergonomic handgrip. The camera can record internal 4K RAW to a CFast™ 2.0 card in our new Cinema RAW Light format without compromising detail, as well as 4K UHD and Full HD in MP4 format to SD cards. The 8.85 Megapixel Super 35mm CMOS sensor, 13 stops of dynamic range, Dual Pixel CMOS AF, full compatibility with Canon EF-mount lenses, and HDR capability help make the EOS C200 ideal for film, documentary and television production, corporate and event videography.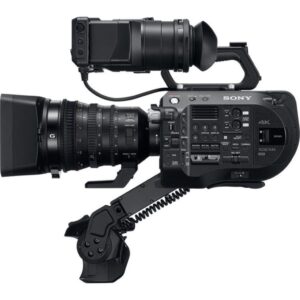 Sony FS7 MKII
Expanding on the original FS7, Sony's PXW-FS7M2 XDCAM Super 35 Camera System is a flexible 4K camera system. Designed as a camera that is at home on productions as diverse as "Cinéma Vérité"-style documentaries, reality TV, commercial, and corporate applications It features a Super 35mm sized sensor that allows you to capture images with cinematic depth of field. The camera incorporates a stronger locking mount, and allows you to use most 35mm lenses including PL, EF, via optional adapters.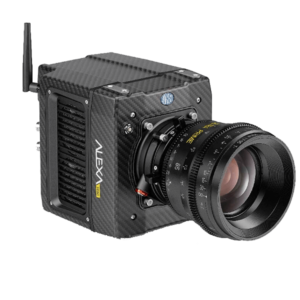 ARRI ALEXA Mini
Compact, lightweight and self-contained, the ARRI ALEXA Mini is a versatile additional tool in the ALEXA camera range. Crews will find that the ALEXA Mini perfectly complements their ALEXA shooting kit, eliminating the complications of working with third-party cameras for specialized shots and keeping everything within a single system that is trusted all over the world.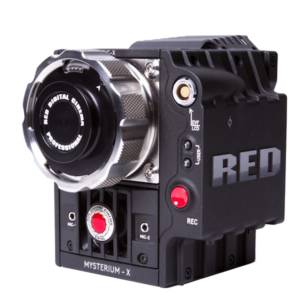 RED Weapon 8k Helium Carbon Fiber
RED DIGITAL CINEMA DSMC2 BRAIN with HELIUM 8K S35 Sensor is part of the 2018 unified DSMC2 lineup and is designed to be built up the way you want, to tell your story in almost any way possible. While other RED cameras use sensors larger than Super 35, the HELIUM is unique in that it allows for high-resolution 8K recording while using classic cinema lenses designed for the Super 35 film format. While 8K exhibition is not mainstream, the extra recorded resolution is helpful for VFX artists and for future-proofing your productions for a time when 8K is standardized. Nearly limitless lens options are available for the DSMC2 system. While this camera requires a separately available lens mount, DSMC lens mounts themselves are offered in different varieties for compatibility with a wide array of lens systems.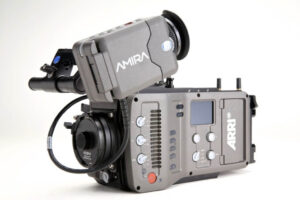 ARRI AMIRA Premium
ARRI AMIRA Premium, a versatile documentary-style camera that combines exceptional image quality and affordable CFast 2.0 workflows with an ergonomic design optimized for single-operator use and extended shoulder-mounted operation.
Same 35 mm sensor as ALEXA
4K UHD 3840×2160 (with license), 2K 2048 x 1152; HD 1920×1080
Log C & Rec 709
ProRes recording up to 4444 on CFast 2.0 cards
Dynamic range of 14+ stops
Natural colors and skin tones
Up to 200 fps – full sensor area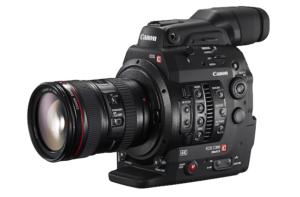 Canon EOS C300 Mark II
The EOS C300 Mark II Digital Cinema Camera is an evolutionary 2nd generation Cinema EOS 4K camera system with a wide range of new and improved features including 4K/2K/Full HD internal and external recording (including 4K RAW output) and a new 10-bit Canon Log 2 Gamma. This powerful new camera also features an expanded dynamic range of 15 stops, improved Dual Pixel CMOS Autofocus, innovative focus assist engineering and CFast recording technology.
Canon 8.85 Megapixel Super 35mm CMOS Sensor
Dual DiG!C DV 5 Image Processors
Internal CFast 4K Recording Technology
Canon Log Gamma 2/ACES/REC. 2020 Support
Dual Pixel CMOS AF (Auto Focus) Technology
Canon XF-AVC Codec
Slow and Fast Motion Recording
Multiple Recording HD/2K/4K Modes
Fully Compatible with New and Existing EF-mount Lenses
Versatile and Refined Ergonomics
Ultra-High Resolution OLED EVF with Adjustable Viewing Angle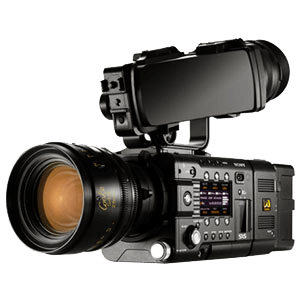 Sony PMW-F5 CineAlta
For incredibly vivid HD, start with the 4K imager of the Sony F5. You'll get superior, super-sampled pictures with noticeably higher contrast, rich color reproduction and greater clarity. The F5 offers robust internal recording modes, all with vibrant 4:2:2 color. Options include the amazing precision of 16-bit linear RAW 2K/4K recording and high speed 2K RAW at up to 240 fps without cropping.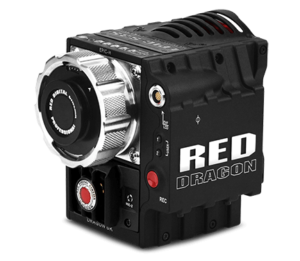 RED Epic Dragon 6k
The Epic-Dragon captures progressive images from 6k to 2k resolutions, and at speeds up to 300 FPS (2k). The camera's modular design, makes it easy to configure for your particular needs. From light-weight handheld, to fully tricked out studio setup, the Epic-Dragon is extremely versatile. The Dragon 6k sensor comes standard with a PL lens mount, (EF Also available) Record to RED's rugged 128GB SSD Redmags for worry free data acquisition.
Red Epic-Dragon Camera Body with PL mount
Red DSMC Side Handle w/Redvolt batteries-charger
Red Rail System and Handles
Red 5.6″ Touch Screen Monitor
Red Station Card Reader
(4) Batteries w/Charger
(4) Red 128GB SSD
AC Power Supply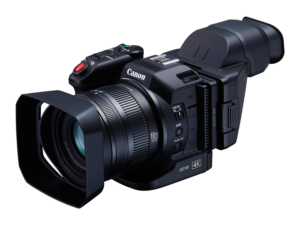 The Canon XC10 4K Camcorder
The Canon XC10 4K Camcorder features a compact, lightweight and versatile design for convenient 4K/Full HD video shooting and 12 Megapixel digital still photography. This all-in-one ergonomically convenient camcorder can satisfy a broad range of video and still production needs. The XC10 4K Camcorder is for everyone from next-generation advanced amateurs to professional 4K and HD videographers, from digital filmmakers needing a cost-effective 4K/HD "B" or "C" camera to multimedia journalists and news agencies seeking a 4K video camera. The XC10 4K Camcorder also appeals to the needs of cross media professionals in that it can also capture 12 Megapixel still images and provide 8 Megapixel stills extracted from 4K motion video.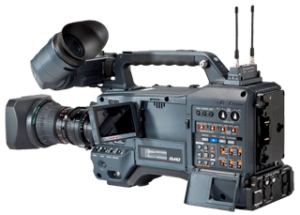 Panasonic AG-HPX370
With an advanced 1/3″ 2.2-megapixel 3-chip imager featuring Ultra Luminance Technology (U.L.T.), the HPX370 delivers exceptional video performance for master-quality HD production. The shoulder-mount camcorder offers 10-bit, 4:2:2, full 1920 x 1080-resolution AVC-Intra recording, 2x P2 slots for dependable recording and an interchangeable Fujinon 17x ENG HD zoom.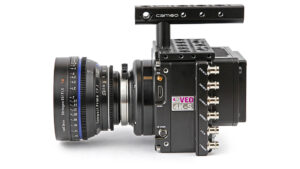 Phantom VEO4K-PL
The VEO4K-PL brings the high imaging standards of the Phantom Flex4K with a compact body to increase the flexibility of use as it does not restrict workflow to accommodate large housing needs. The 9 Gpx throughput delivers full 35mm imaging with 4K resolution and low noise. This ensures that professionals are able to view fine details without compromising speed and function.
The Phantom VEO4K-PL can utilize PL and Canon EF (with electronic control) mounts. The ability to easily change lens mounts on location adds to the flexibility of the VEO4K-PL and increases usability without excessive downtime.
Features:
SDI and HDMI video outputs
CFast 2.0 media
 12V battery input
On-camera controls
Programmable I/O
10Gb Ethernet Option